(2010) steel, foam, fabric
Installation, Portland, OR.
This project explored the interface between art, regional planning, traditional Chinese medicine and the health of a city.
Needles appearing across the city brought attention to the some of the city's most challenging problems, greatest assets, as well as places with enormous potential.
From April-October 2010, needles moved from site to site in a roving city-wide installation.
The project coincided with a series of public workshops to help steer the Portland Plan, a guide for the city's growth over the next 25 years.
"Using the body as a metaphor for the entire city, Kuby hopes to identify those places in the landscape that are important to us as a community, drawing attention not only to the significance of each focal point but also to the inter-connectedness of them to each other as well as to ourselves."
Susan Anderson, Director, Portland Bureau of Planning & Sustainability
Point Name: SWIMMABLE RIVER
Meridian: Kidney
Location: Waterfront Park
Install dates: April 24 - June 1
When will the Willamette River be clean enough to swim in without concern? Steady progress is being made to reduce hazardous chemical and waste overflows into the river, but there is still more to be done. Imagine a river clean enough for people to swim in, as well as the salmon, herons, eagles and beavers that eat, drink and live in it every day.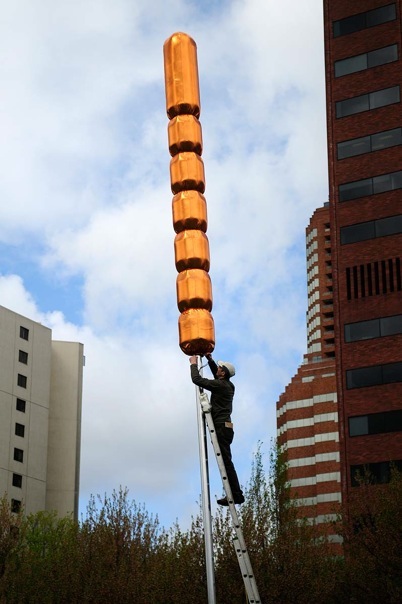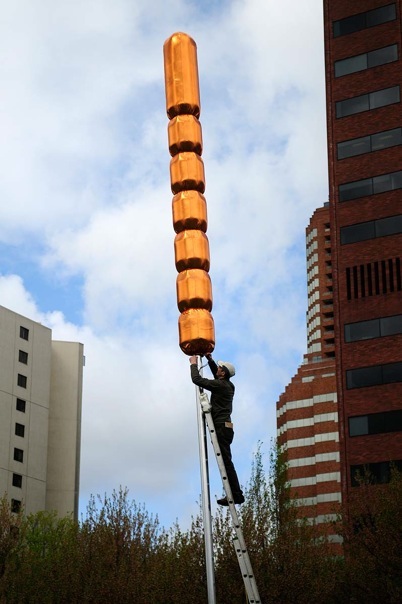 Point Name: REMOVE TOXINS
Meridian: Liver
Location: Swan Island
Install dates: May 8 - August 3
Contaminated with heavy metals, polychlorinated biphenyls (PCBs), polynuclear aromatic hydrocarbons (PAH), dioxin/furans and pesticides, this stretch of the Willamette from the Fremont Bridge to the Columbia is one of EPA's top priority Superfund clean up sites nationwide. Swan Island is also the site of Portland's "Big Pipe"pump station which has greatly reduced sewage overflows and marks a huge improvement to the river's well-being.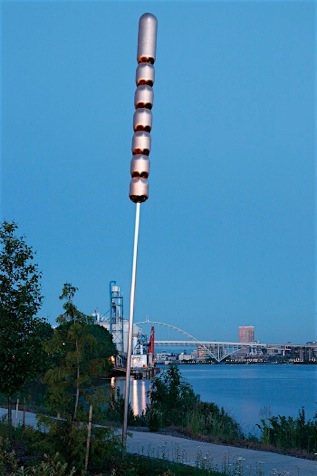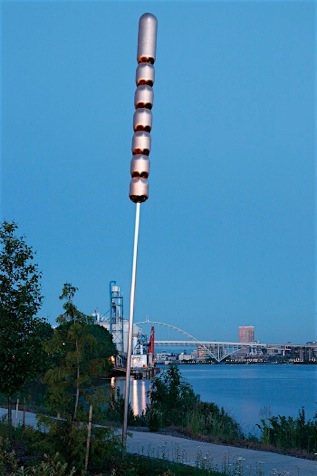 Point Name: Open Water
Meridian: Lung
Location: Mt. Tabor
Install dates: April 24 - June 17
Starting as snow on Mt. Hood, collected at Bull Run and fed by gravity 30 miles to these reservoirs, this water keeps Portland alive. Currently there is controversy over how best to protect the quality and safety of the drinking water supply –– whether to cover these reservoirs or leave them open where UV radiation from sunlight naturally keeps the water clean. In addition, Portland needs to reduce water consumption in every way possible to meet the demands of its growing population.
Point Name: DEEP CHANNELS MEETING
Meridian: Kidney
Location: Kelley Point Park
Install dates: April 24 - June 17
The meeting of these two great rivers is the reason for Portland's existence. Over millennia they have shaped her hills and valleys and provided people living here with food, transport, recreation and a strong sense of place. They are invaluable. They are valued.
Point Name: UTMOST MIDDLE
Meridian: Heart
Location: NW 4th & Couch Old Town/Chinatown
Install dates: June 5 - Sept. 7
In Chinese Medicine, the principle Gu Ben Fu Zheng means "preserve the history and raise new energy". This is the perfect prescription for Oldtown/Chinatown, the original core of the city and home to Portland's early Chinese & Japanese communities. The area is now getting a much needed infusion of qi as businesses, schools, service organizations, restaurants and nightlife together create a vibrant new mix.
Point Name: FIELD OF NEIGHBORHOOD DREAMS
Meridian: Small Intestine
Location: Fernhill Park/Old Whitaker School
Install dates: June 19 - Sept. 7
This empty parcel of land is the site of the old Whitaker - Adams School, torn down 3 years ago due to mold and radon problems. Now the Cully and Concordia neighborhoods are pressing for something to happen here that benefits and empowers the local community. This could be another school or college campus, a community center, affordable housing, or commercial development that provides services and jobs for this neighborhood.
Point Name: INNER AFFORDABILITY
Meridian: Stomach
Location: Rose Quarter
Install dates: June 26 -
Before the Rose Garden and Coliseum were built, this was Jumptown, a lively African-American neighborhood and home to numerous Jazz clubs. Now the city is looking for ways to revitalize and redevelop the Rose Quarter. Affordable housing is lacking in the inner city, so civic groups are pressing for additional units to be built closer in. Madrona Studios, managed by Central City Concern is a great example, but we need more.
Point Name: PENDING PROMISES
Meridian: Small Intestine
Location: SE 122nd Ave. & Reedway
Install dates: August 7 -
Like much of East Portland, the Powellhurst-Gilbert neighborhood has been promised greater inclusion in the City of Portland and better services and infrastructure (such as sidewalks and crosswalks) that most neighborhoods take for granted. If the goal is equal opportunity for all Portlanders, then fulfilling these basic needs is a good place to start.
Point Name: SPACE IN-BETWEEN
Meridian: Large Intestine
Location: Between I-84 & I-205
Install dates: August 9 -
Currently this 35 acre site between I-84 & I-205 is mostly unused**, but behind the scenes activists, planners & elected officials are working to reclaim it as a new recreation area for off-road cycling, hiking & more. It's called Gateway Green and will be an important piece of the region's web of trails & green spaces. Another trail is being proposed along I-84 (Sullivan's Gulch Trail) that will link Gateway Green to downtown Portland and the Willamette River.
** On the first visit to the site it became very clear that many homeless people are living out here, pitching their tents when the sun goes down and literally pulling up stakes at sunrise. There are on average 30+ people sleeping out here every night, including "The Monk" who helped us with the installation and said he would keep an eye on the needle for us.
Point Name: STREETCAR DESIRE
Meridian: Spleen
Location: SE 12th & Clinton
Install dates: Sept. 11 -
This site is very near the future Portland - Milwaukie MAX Light Rail Clinton St.Station, slated to open in 2015. Streetcars ruled Portland from the 1880's through the 1940's, but they were all removed when cars became the predominant form of travel. As the city grows, better public transit is essential to Portland's health by ensuring efficient movement of her overall circulation system.The Portland-Milwaukie line Light Rail Project is now in the design phase. For more information, or to get involved, go to trimet.org/pm.