Site #1 at Mosquito Creek
A spectrum of vegetation from rock colonizing plants, grass & shrubs, and future old-growth cedars and firs was planted in the sculpture's widening gap. Over time the growing succession of vegetation will shift and heave the granite blocks and reshape the sculpture.
Site #2 at Lynn Canyon
Five massive granite slabs were placed in association with 4 newly planted trees. The trees will all become old-growth giants over time. Like site #1, they will shift and heave the slabs as they grow.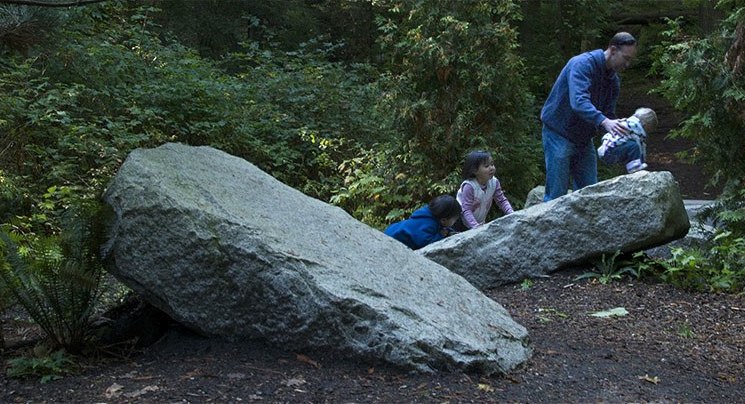 Site #3 at Seymour River
Five granite blocks sit on a gravel bar in the flood zone of the Seymour River. Over time the blocks will shift, tilt & erode as flood waters endlessly transport rock from the mountains down to the sea. The blocks will also improve salmon habitat by helping them navigate the river during floods.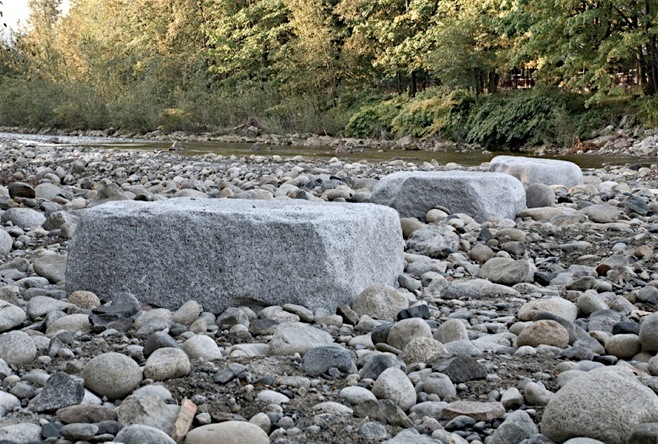 EVENTUALLY
2009
granite, vegetation
Commissioned by District of North Vancouver, BC, Canada.
This triptych of sculptures inhabit three parks in Vancouver. Over decades and centuries, growing trees and other natural forces will continue the sculptural form-making process that has been initiated at each site...